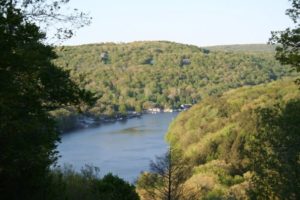 "You have to live there to see the beautiful sunrise over Lake Zoar in the morning," says Annette Sullivan, current owner of Zoar Ridge Stables, Sandy Hook's unique horse farm property. Set on the top of a hill above Lake Zoar, this farm has an almost magical quality with its rolling green pastures, accented by the graceful curves of horse fences. A relatively new four-bedroom house faces west, enabling its occupants to take in the equally breathtaking sunsets over the fields.
Zoar Ridge Stables has come a long way since the Sullivans first purchased the property over 25 years ago. Intending merely to keep a few horses of their own, they acquired the almost 30-acre property and converted a caretaker cottage into their residence. Annette, who worked for the Connecticut Humane Society at the time, began taking in horses for boarding. Soon, she and her husband were inspired to build up the property and transform it into a proper horse farm. As their daughters and their friends became interested in riding, it was a natural progression to offer lessons and camps to children in the community.
Zoar Ridge is an exceptional property as it sits on the top of a hill, giving it the "high and dry" conditions that are ideal for a horse farm. Its pasture is one of the largest fields in Fairfield County for horseback riding. The six-acre hunt and jump field is conveniently flat, and has water jumps and a small ditch to facilitate horse training.
Over the years, many happy animals have resided at Zoar Ridge and brought delight to visitors of all ages; including chickens, goats, sheep and "Turquoise" the donkey, whose outsize personality still stands out in the family's memory.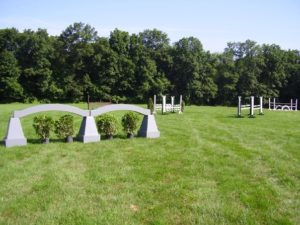 One lucky horse found her fairy tale ending after coming to live at Zoar Ridge Stables. When a downturn in the economy left many horses without homes or proper care in 2011, Annette began taking in rescues. Burma's Lady was headed to the slaughterhouse before Annette purchased her for $200, but she soon discovered the old mare was pregnant. Her life was in jeopardy due to poor treatment which had compromised the state of her organs, making pregnancy and childbirth extra risky. As the Sullivan family waited and hoped, Annette wrote about Burma's Lady on Facebook. The post garnered interest and was shared widely. The one day out of the blue, Annette received a surprising call from the horse's original owner. The tearful young woman explained that her precious horse had been stolen and given up for lost until a friend spotted her on Annette's Facebook page. Thankfully, Burma's Lady survived her delivery (though the foal did not live) and soon after, she was reunited with her grateful owner. The Associated Press picked up this remarkable story and it went national. Happily for everyone involved, the mare's remaining years were spent being spoiled and loved in the fields of North Carolina with her owner.
There were more good deeds to come out of Zoar Ridge Stables. Annette founded the Embrace Hope Foundation, a non-profit organization that provides equine-assisted therapy, free of charge, to the local community. Annette was inspired to create the beneficial program in the early days after the tragedy at Sandy Hook Elementary School – when she opened her farm to local children, families and first responders. She observed firsthand how the presence of her horses provided comfort to those in need, and helped the children to open up. The foundation continues to support the local community at Zoar Ridge Stables today, in partnership with the Equine Assisted Growth and Learning Association (EAGALA).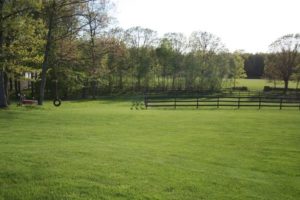 As Annette reflects on her years owning and living at Zoar Ridge Stables, she recalls the joy of feeling the breeze that blows off the lake from where it bends around a curve just below the property. She describes the beautiful views of the lake and the field where her horses once roamed. "The land has nice a roll to it," she says with a hint of pride in her voice. "Even the animals loved it."