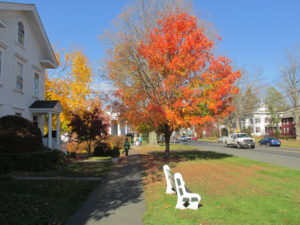 When making a move, it can feel daunting to tackle the various elements of settling in to a new location. Newtown Realty is here to help with tips to make the transition smooth and efficient for you and your family.
Finding service providers
Local Facebook pages can be one of your best resources for gathering information on local companies and service professionals. A great example is a page that serves Newtown and surrounding towns called Newtown Neighbors Unite. Subjects are searchable and the large volume of comments provide a high level of detail.
There are many to website options as well. Consumer's Checkbook is the only customer rating service we found that does not accept advertisers so it might be a good place to start. Yelp and Angi are other popular sites for finding home professionals, along with Porch and Home Advisor. (Keep in mind that Yelp reviews can be affected by the fact that businesses may appease complaining customers in exchange for deleting their negative reviews.) To find a doctor or specialist in your new city, Healthgrades.com, RateMDs and Vitals.com are provide reviews of health care practitioners. Ratings are based on patient reviews so it's important to keep in mind that opinions about medical care can be especially subjective.
Finding a job
To find a job in a new city, spread the word among friends and acquaintances about the type of work you are seeking and make full advantage of your connections on LinkedIn. This video demonstrates how to dramatically streamline the application process through the site. Volunteering can also be a smart way to get your foot in the door to a particular field or organization. Job search sites such as CareeerBuilder and Indeed are plentiful and definitely worth tapping into. This article gives you a list of quality sites along with detailed descriptions, and a few other helpful hints.
Making new friends at any age and stage
To make friends in a new city, it helps to network through family and acquaintances and participate in social events with coworkers and participate in college alumni events. Meeting people often comes naturally when you join clubs, take continuing education classes and attend cultural events.
Meetup lets you find gatherings of people interested in specific categories like hiking, cooking or social action. Nearify informs you of events and attractions in your area, and Meet My Dog is described as a "private social network for you and your dog". City Socializer lets you join a community of locals and attend social events.