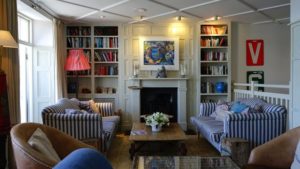 We appreciate an informed consumer at Newtown Realty, which is why we're sharing our list of common pitfalls we advise home buyers and sellers to avoid. We hope it will help streamline the process, and encourage you to collaborate with us as we help you engage in one of the biggest transactions of your life.
Pitfalls to avoid for Sellers:
​1.​ Not adequately preparing your house for sale
Show your home at its absolute best. Clean and declutter, make repairs, freshen up paint on the walls and replace carpeting that has clearly seen better days. Don't neglect your landscaping either. First impressions matter – so trim the hedges, pull weeds and perhaps add some annuals for a fresh look and enhanced curb appeal.
Staging is important. Read up on experts' simple tips to bring out the best in your home's interior.
​2.​ Using mediocre photos
Potential buyers browsing for a home online or with their realtor will make quick judgements based on the photographs you choose. Put your house in the best light by: using well-lit exterior shots (with no cars in the driveway), using a wide angle lens, getting photos of every room, and focusing on interesting features. You can read more about marketing your house here.
​3.​ Hanging around for showings and open houses
Allow potential buyers to imagine living in your space by temporarily stepping away. We promise to show your home with the enthusiasm and appreciation you know it deserves – by acquainting ourselves with its individual features and best attributes.
​4.​ Trying to sell your home without a professional agent
It's often too difficult to stay objective when making important decisions about your home sale, especially during the tricky process of negotiating. A professional realtor can dedicate the time needed to preparing, listing and showing your home, and their professional network of contacts can take you much further than simply listing your house on major real estate sites. Perhaps most importantly, you may even open yourself up to a lawsuit for failing to disclose a defect or hazard you overlooked due to a lack of experience.
​5.​ Pricing your home too high or refusing to budge on asking price
Our agents' expertise and experience will come in very handy to help you navigate these challenges and make the best financial decisions with regard to the sale of your home.
Pitfalls to avoid for Buyers:
​6.​ Failing to get pre-approved for a specific mortgage amount
This step is very important because it allows you to know exactly how much you are able to spend, speeds up the buying process, and lets sellers know you're serious. It's also a good idea to first take a look at your credit report so you can fix any mistakes before they affect your mortgage application.
​7.​ Overlooking hidden costs
Your down payment and mortgage are far from the only costs that come with purchasing a home. Inspection costs and appraisal fees will be needed before you make on offer. During the buying process, there will be closing costs and escrow fees. Once you're in your new home, you'll want to know the costs of repairs, utilities, taxes and (in some cases) homeowners or development dues. These are all potential costs that should be factored in when considering the purchase of a new home.